At Cedar House, we love featuring unique Catholic ministries and artists who serve Our Blessed Lord and who build up the body of Christ. That is why we were excited to include SoulCore in our list of brands.
A profoundly Catholic fitness program, SoulCore is a movement that pairs core strengthening, stretching, and functional movement with Catholic prayers, like the Rosary and the Chaplet of Divine Mercy. SoulCore focuses on a complete sensory experience, combining candlelight, music, Scripture, and movement to nourish body, mind, and soul and encourage deeper reflection on the mysteries of the Rosary. Cedar House offers SoulCore's DVD programs, which feature workouts and meditations on the mysteries of the Rosary and Chaplet.
Born from tragic loss
After tragic loss in her family, SoulCore founder Colleen Scariano found comfort, peace, and healing in the Rosary and a deeper devotion to the Blessed Mother. She started praying the Rosary while running and discovered the power of integrating body and soul.
With her friend Deanne Miller, Colleen combined strength training with the Rosary and SoulCore was born. Because SoulCore is based in Christian meditation, it encourages "filling" the mind and soul with the life virtues and Word of God through the Rosary. A movement all its own, SoulCore is not affiliated with any other fitness disciplines. More specifically, SoulCore is not yoga, or even a Catholic version of yoga. No yoga poses or Sanskrit are referenced at any time.
SoulCore is unique among other fitness programs because of its emphasis on putting God at the center. Colleen explains that "when we place God at the center of any aspect of our lives, we strive to ensure that it is rightly ordered. God has created us body and soul and we need to nourish both for the wellness of our whole person." Since their founding in 2012, SoulCore has expanded to include online streaming of classes and DVD workouts, as well as 200 local certified leaders in 40 states and three countries.
Honoring Our Lady
SoulCore is dedicated to Our Lady, who is reflected in the brand logo. Modeled after a necklace made by Colleen's husband, the logo features an A and M intertwined. These two letters symbolize the Latin phrase "Auspice Maria," which means under the protection of Mary. The logo is a constant reminder of Our Lady's love.
Colleen explains, "Our Lady's desire is always to lead us closer to her son Jesus. As a Marian apostolate, SoulCore imitates her in striving to draw others closer to Christ through deeper reflection on His life and virtues in the Rosary. Anything that could potentially lead us away from Christ is counter to our mission."
What is SoulCore like?
SoulCore has become immensely popular in Catholic fitness circles. Testimonials from participants express how the program has helped them reach their fitness goals in a way that honors God and Our Lady.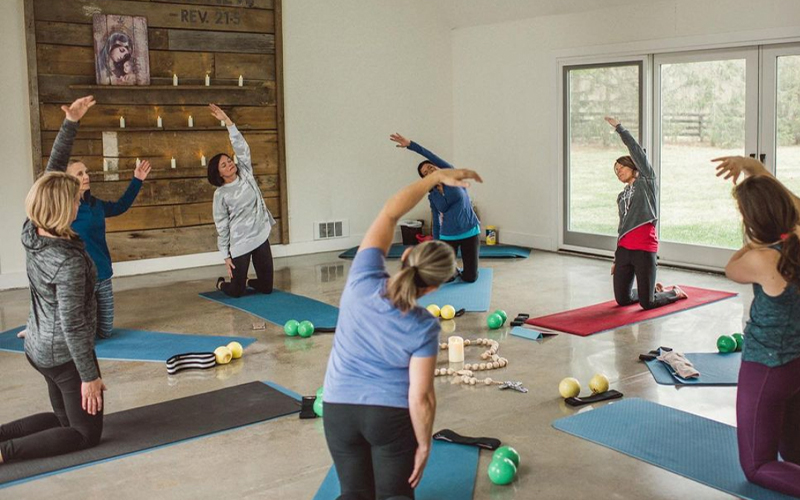 "Movement and prayer are a natural pair. My background working with disabled children showed me how movement led to increased speech. This movement led to an increased 'speaking' with God."
–Amanda
"SoulCore is the most beautiful and most meaningful way I have ever experienced the Rosary. Combining body and soul is so powerful and lifts up my prayer."
–Eva
"This beautiful ministry has become a part of my daily prayer intentions—thank you again for your willingness to witness to our Catholic faith in this very physical way."
–Mary
What's next for SoulCore?
Colleen and Deanne have big plans for SoulCore in the coming months. The most exciting development is the launch of the SoulCore app. As SoulCore continues to grow, Colleen is looking forward to seeing more leaders offering classes in more locations, and helping bring more people closer to Jesus through nourishing body, mind, and soul.
To learn more about SoulCore, visit SoulCore.com.